HONOLULU ELECTRICAL SERVICES
TROUBLESHOOTING | REPAIRS | INSTALLATIONS
RESIDENTIAL & COMMERCIAL
Honolulu Electrical Services provides electrical troubleshooting, repairs, and installations for both residential and commercial properties.  With over 21 years as licensed electricians in Honolulu, our range of knowledge and experience allows us to confidently solve your electrical issue with code compliant solutions.  As experienced Honolulu electricians, we provide standard electrical repair services all the way through installing new electrical systems.  New, old, big, small, complex, simple, complete, re-wiring, replacements, installations – we are a complete and full-service electrical contractor in Honolulu.
Get Scheduled For A FREE Quote In Minutes Not Hours!
We Will Challenge Any Licensed Competitor's Written Price!
Aloha, my name is Ed, and I am known as "Ed the electrician" on Oahu.
I'm an easy going guy that lives in the Waialae area in Honolulu with my sweetheart wife and energetic kids.  I've been an electrician since I was 17 years old, which makes for about 34 years of experience…..oh how the time does fly.  Yes, every electrical project is unique, but I've just about seen it all and done it all when it comes to electrical troubleshooting and electrical installations.
But you didn't come here to learn about me, you came here for an electrician.
Call in if you're looking for an electrician in Honolulu that can troubleshoot and solve any electrical problem.  Me and my guys do everything from replacing blown outlets that don't work anymore, replacing fuses in panels that won't stay closed, install ceiling fans, running new electrical circuits in your home, we can run all new wire for a new home or building, we can install electrical panels and electrical disconnects, we've been installing a lot of electrical vehicle charging stations lately, upgrading and installing new 120 volt, 240 volt  and even 480 volt circuits, home remodels for all new electrical wiring, appliances, lights, outlets, etc., and just about any and everything in between.
We're guilty of doing everything 100% code compliant, having excellent customer service, and taking pride in our workmanship.  Our main shop is in the Waialae area of Honolulu to give you an idea of how far away we are from you.  We service all of Honolulu from Hawaii Kai to Aloha Stadium, mauka to makai.
Always trust a licensed electrician to work on your electrical system.
Aloha, 
Ed the electrician
GET A GUARANTEED CALL BACK FROM THE OWNER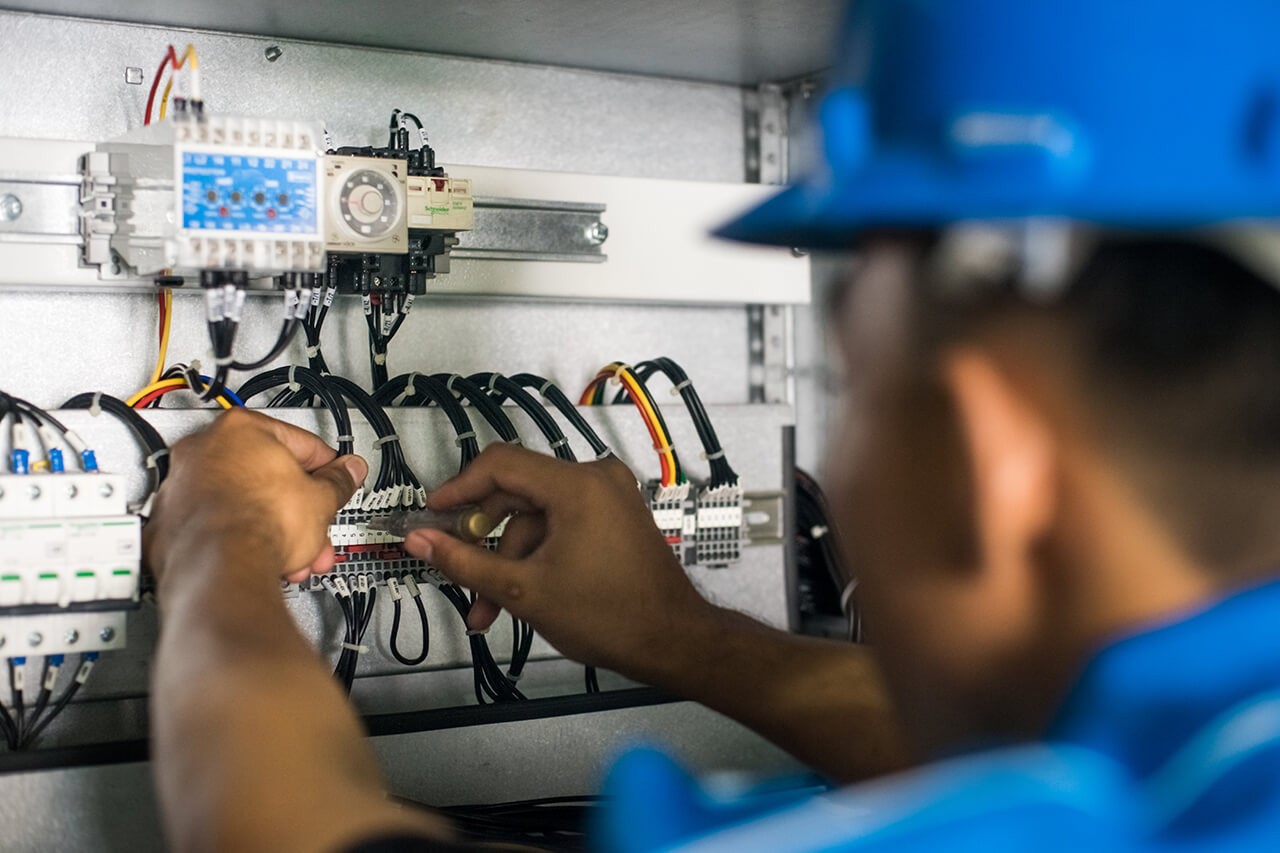 Electrical Troubleshooting
Tell us about your Electrical Requirements
Let's look at your project together for the best results
Our full faith quotes are always free & honored for 30 days
Professional, Full-Service Electricians in Honolulu
For the best electricians in Honolulu, the choice is clear: Honolulu Electrical Services! We provide a wide range of residential and commercial services from electrical troubleshooting, repairs, and installations so we've got you covered!  
As licensed electricians in Honolulu, HI, our range of knowledge and experience allows us to confidently solve your electrical issue with code compliant solutions.   
Whether your job is complex or simple, new constructions or old modernizations, Honolulu Electrical Services is a complete and full-service electrical contractor in Honolulu. Contact us today to learn more about our comprehensive electrical services and how they can benefit you!
You can count on our team of electricians in Honolulu, Hawaii for new electrical installations, electrical repairs, as well as electrical upgrades. Check out our full list of services that ensure your business and/or home gets back to 100% within the shortest time possible.  
We offer the following general services for our customers: 
Troubleshooting

 

Repairs

 

Installation

 
Honolulu Electrical Services is your first-choice for professional electrical troubleshooting for your home or commercial property. Electrical troubleshooting finds the root cause of your problems, not just addresses the symptoms.  
Common problems such as faulty switches, stripped insulation, and wiring problems can lead to other problems down the road, costing you more in future repairs or even putting your home at risk for fire or accidental electrocution.  
Common Electrical Problems
The following are some common signs that you need a licensed and experienced electrician to troubleshoot your property: 
An old electrical panel or a circuit breaker trips repeatedly

 

Blown fuses are a common occurrence

 

An outlet or switch becomes hot to touch during use

 

Outlets, light switches, and/or sensors become nonfunctional or intermittent (especially after it rains or is humid)

 

You can smell the scent of burning plastic near an outlet or light switch

 

You hear sizzling near an outlet or switch

 

You have observed sparks and smoke coming from an outlet or an appliance

 

Lights flicker or dim when a microwave or other appliance turns on

 
To resolve these issues once and for all, let the electrical troubleshooting experts at Honolulu Electrical Services work to fix all your electrical problems.  
Our Electrical Troubleshooting Process
Our licensed and experienced electricians at Honolulu Electrical Services are trained to replace the defective components and do so in the fastest time frame possible. Our systematic approach involves a comprehensive step-by-step process that is reliable and effective in finding the source of most electrical issues.  
Preparation

 

Inspection of the Electrical System

 

Identifying the Problem 

 

Making All Necessary Repairs

 

Testing the Work

 
Learn more about Honolulu Electrical Services' electrical troubleshooting services here.
At Honolulu Electrical Services, our professional electricians are ready to come to your home and make any electrical repairs you need.
Your home or business' failing electrical systems can present problems that may put your safety at risk. Something as simple as a non-working outlet can be a sign of deteriorating wire within your walls, or it may point to a more serious problem that can lead to expensive repairs, catastrophic fire, or electrocution.  
With decades of experience, our team knows what to look for and will resolve each problem while working within your budget and time frame!
Warning Signs of Electrical Systems in Need of Repair
You may have begun to notice some issues that indicate that an electrical problem may be present: 
Electrical outlets not working

 

Circuit breakers regularly tripping

 

Three-way switches not working properly

 

A burning smell in certain areas of your home

 

Smoke coming from outlets or behind walls

 

Lights are too dim or blink intermittently 

 

GFCI outlets won't reset

 

Your home/business has outdated knob-and-tube wiring

 

Appliances constantly breakdown or work inefficiently

 

Higher than normal electricity bills

 
If you have any of these problems, it's time for professional electrical repair for your convenience and safety. Considering that faulty electrical systems are the third most common cause of structural fires, it's incredibly important to get an electrician who knows common and not-so-common problems affecting Hawaiians!
Contact us 24/7 for immediate service to get the peace of mind you deserve! 
Learn more about Honolulu Electrical Services' repair services here.
For installations and upgrades to your home or business, Honolulu Electrical Services can help. Our licensed and certified electricians offer years of experience that get the job done on your schedule. We work within your budget, offering ongoing maintenance and support that will ensure your electrical system remains in excellent working order for years to come!
Why Do I Need Electrical Installation Services?
Working with electricity can be extremely dangerous. Accidental electrocution from handling a circuit or active wire may result from improper handling.

 

Improper electrical installations often lead to larger issues, such as excessive energy consumption, intermittent connections, and poor performance. 

 

DIY repairs may save money in the short term, but long-term issues can persist and cause expensive electrical repairs in the future – not to mention wasted time and effort.

 

Modern electrical installations can disrupt older electrical systems – even if properly installed. 

 

Many electrical installations require the right expertise, training, and equipment for proper installation, as well as rigorous testing for safety and performance.

 
Professional electricians can solve all these issues with ease! Your home and your business needs correct and accurate electrical installation service so Honolulu Electrical Services helps maintain a safe environment for your family and your clients!
Our Installation Services
Electrical panels (installations and upgrades)

 

Circuit installations and upgrades (i.e. new wiring, re-wiring, outlets, switches, etc.)

 

New service panel upgrades

 

Surge protection

 

Electrical remodeling

 

Ceiling fan installation

 

Exhaust fan installation

 

Carbon monoxide and smoke detectors

 

Alarms and security systems

 

Tankless water heaters

 

Home generator installation

 

Commercial generators installation

 

Appliance installation (i.e. washer/dryer, commercial-grade ovens, etc.)

 

Residential and commercial energy audits

 

Solar energy systems

 

Power conditioners

 

Power consumption meters
Contact us to discuss your next electrical project and learn how we can help bring you peace of mind today! 
 Learn more about Honolulu Electrical Service's installation services here.
Honolulu Electrical Services is a full-service provider of residential electrical services throughout the Honolulu metro area. Whether you need upgrades, repairs, and maintenance, you can count on us for top-quality solutions for your indoor and outdoor electrical needs!
Considering that your home and property are some of the most important investments you can make, it makes perfect sense to hire a licensed electrician in Honolulu that understands your needs.  
Our Residential Electrician Services
Electrical Repair & Troubleshooting 
Our electrical repair service takes care of any old/broken components throughout your home, including: 
Light switches

 

Outlets

 

Breaker boxes

 

Fixtures

 

Fuses

 

HVAC wiring

 

Main service upgrades

 

Meter sockets

 

and more!
Indoor Lighting Services 
As a first-call residential electrician in Honolulu, we can provide a wide range of indoor lighting services as well as installing the following: 
Accent lighting

 

Recessed lighting

 

Ceiling fans

 

Chandeliers

 

Bathroom lighting

 

Basement lighting

 

Kitchen lighting

 

LED lighting

 

Incandescent lighting

 

Fluorescent lighting

 

Dimmers

 

Lighting timers and controls

 
Outdoor Electrical Projects 
We offer a wide variety of electrical services to help you get the most out of your outdoor spaces, including: 
Pathway lighting design and installation

 

Motion sensors and timers for exterior lighting

 

Installation of underground conduit wiring for landscape lighting

 

Hot tub and pool wiring

 

Outdoor theater and sound systems

 

And more

 
Home Renovation & Remodeling 
Our licensed electricians in Honolulu will work with you and any other contractors to ensure that work that is up to code and completed within your schedule so you can enjoy your new home sooner!
Electrical Home Inspections 
If you're buying or selling a home in Honolulu, our licensed residential electricians can help inspect and repair any electrical items you need to close the sale. 
Learn more about Honolulu Electrical Services' residential electrical work here.
Our team of licensed and certified commercial electricians in Honolulu have the ability to work on simple or complex commercial electrical projects for a variety of needs. We perform all types of electrical services: from routine maintenance and troubleshooting to complex electrical installations and repairs.  
We are familiar with all of the latest OSHA standards and make it a priority during our assessments to ensure that your operation is in compliance!
Our Commercial Electrician Services
Main service upgrades

 

Commercial equipment installations

 

Regularly-scheduled maintenance

 

On-demand service calls and troubleshooting

 

Commercial energy audits

 

OSHA electrical safety and security compliance

 

Electrical panel upgrades

 

Circuit installation and upgrades

 

Surge protection and UPS (uninterruptible power supply) installation

 

Single-phase and three-phase services

 

Customized design/build/engineering services

 

Ballast lamp and bulb replacement and installation

 

Warehouse wiring

 

Office wiring

 

HVAC wiring

 

Metering (for Amps, Volts, KW, KVA, and Power Factor)

 

Telephone and data wiring 

 

Building automation wiring and systems installation

 

Tenant improvements and new constructions

 

Parking facility lighting and design

 

Outside light maintenance

 

Security system installation (including video and sound)

 

Generator installation, hookup, and maintenance

 

Solar / Photovoltaic (PV) panel installation and servicing

 

Emergency lighting systems (including annual testing and maintenance)

 

Fire security and alarms

 
We understand that every business is different and has unique needs that are best discussed with a professional commercial electrician in Honolulu. Contact us today to learn how we can serve your commercial electrical needs today! 
The following list is a sampling of commercial electrical projects we've worked on: 
Schools and educational facilities

 

Hospitals

 

Healthcare facilities

 

Office buildings

 

Retail shops and storefronts

 

Residential/Townhome properties

 

Warehouses

 

Factories

 

Breweries

 

Gas stations

 

Restaurants

 

Parking lots

 

And more

 
Learn more about Honolulu Electrical Services' commercial electrical work here.
Why Should I Choose Honolulu Electrical Services?
Honolulu Electrical Services provides its customers with the highest quality, longest-lasting electrical repairs on the island. Here's why we're the first-choice for electrical repair in Honolulu: 
Community-minded

: We are locally-owned and operated.

 

Professional

: Fully licensed, insured, and bonded

 

Quality workmanship

: We employ highly skilled full-service electricians for all electrical installations and repairs at your home or business. Our licensed and certified electrical repair technicians hold themselves to strict technical and safety standards, resolving your issues in the shortest time frame possible.

 

Efficient

: As some of the most in-demand electricians in Honolulu, we understand that your time matters. That's why we offer quick response times to your immediate needs and work with your schedule to minimize downtime. 

 

Cost-effective

: We work within your budget every step of the way and you will never pay more than what you're quoted. 

 

Friendly

: Customer service is a priority, so our team of electricians in Honolulu is friendly and motivated to provide genuinely helpful service.

 

Safety

: Making sure that your business and home are electrically sound and compliant is our highest priority. Our highly-technicians go the extra mile to ensure that every job we perform is guaranteed safe.

According to estimates

 by the Electrical Safety Foundation International, there are more than 360,000 residential building fires reported to fire departments throughout the United States each year. This results in some staggering annual statistics, including: 

 
13,250 injuries

 

2,495 fatalities

 

$7 billion in property losses

 
Electrical malfunction was found to be the leading cause of those fires which is why we encourage our customers to hire professional services of Honolulu Electrical Services for peace of mind and reassurance.  
Transparent

: Before, during, and after our work, our team offers simple and complete explanations of the electrical problems and the solutions we provided. We keep you in the loop every step of the way so there are no discrepancies between the work we provide and the finished product!
As the first-choice for electrical repairs in Honolulu, our highly skilled and locally-based Honolulu electricians will assist you with resolving any recurring electrical issues your home or business may have.  
Every service call begins with a thorough inspection of your electrical problem. If an underlying problem is determined to be causing the issues, we find the exact source to prevent further problems down the road.  
Once we've determined a verified electrical diagnosis, our technicians will go over their findings with you to make sure you understand what comes next and explain all of your options. This means scheduling, budget, the scope of the work, and estimates.  
After the agreed-upon scope of work is approved, our team begins work immediately. We work diligently to make the necessary electrical repairs in the shortest time frame possible to minimize disruption to your life. And while we work, we make sure to dispose of any messes and debris that occurs in our line of work.  
Once the work is complete, we then perform rigorous testing of your repaired system to ensure your electrical repair is completely fixed for full functionality and performance long after our team has left. And if necessary, we will explain and review your new system for any user interfaces, functions, controls, as well as maintenance requirements. 
Contact Honolulu Electrical Services For Your Electrical Needs Today!
For professional electrical installations in Honolulu, the choice is clear: Honolulu Electrical Services.  
Our expert electricians in Honolulu can handle all of your electrical installation needs – from simple residential installations to large commercial repairs, regularly-scheduled maintenance to complete modernizations of your home and business.  
It's our mission to spread the spirit of aloha in every job we perform and show that value to our customers. We'll work within your budget and the needs of your building to ensure every job is completed to your satisfaction, giving you the peace of mind and satisfaction that you deserve.    
Contact us to learn more about our prompt service and to schedule your next appointment today! 
GET A GUARANTEED CALL BACK      FROM THE OWNER
Affordable & Reputable Electrical Services